Hi friends, today I will give you the Sleepycat mattress review in this article and cover all the points and factors like Quality, Durability, Materials of the mattress, etc.
If you are planning to buy a new SleepyCat mattress, read on and get all the information about the SleepyCat mattress.
And SleepyCat is the best mattress brand in India and also offers top-quality mattresses in India with great deals.
The SleepyCat mattress is the best-selling mattress in India on Amazon and Flipkart. SleepyCat mattresses make different types of mattresses.
And SleepyCat is an India-based company founded in 2017 Now Sleepycat offers premium quality mattresses in India.
Types of SleepyCat Mattress
SleepyCat has 4 types of mattresses in India and all SleepyCat mattresses provide different features. These are SleepyCat Original, Latex, and Baby Mattress. As you can see, all the mattress types are mentioned below:
SleepyCat Plus and SleepyCat Original are the same mattresses; There are only slight differences in the gel foam and mattress dimensions, as the SleepyCat Original is 6 inches high and the SleepyCat Plus mattress is 8 inches high.
Mattress Packing
The SleepyCat mattress comes in a small box and the SleepyCat compressed the mattress with a vacuum and sealed package after rolling up the mattress.
And the company delivers it directly from the factory to your home – there are no retailers included in this process.

Generally, the delivery and packaging are delivered safely to your home without any cause. When you open the SleepyCat mattress box.
And break the seal of the mattress, then it will take up to 90 minutes to get the original shape of the mattress.
When it takes an original shape, then you can use the SleepyCat mattress and you can also see the Unboxing of the SleepyCat mattress in the video.
So we can say SleepyCat is a premium mattress with great features and quality.
SleepyCat Mattress Design
The SleepyCat is luxuriously designed with a premium mattress for all sleepers. SleepyCat mattresses have all the features and they look really good.
And keep reading the SleepyCat mattress review to get more information about each mattress.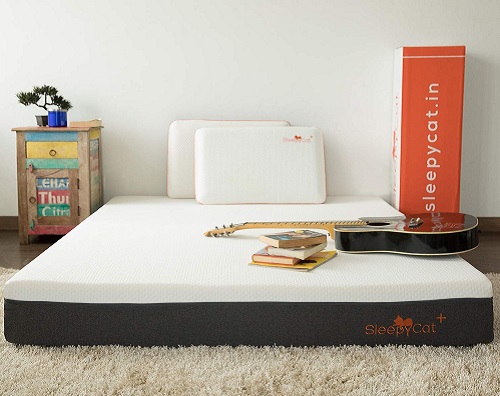 Sleepycat Mattress Features:-
Dimensions: Length (78 x 48 x 8 inches)
2-inch Gel Memory Foam, 6-inch
High-Density Base Support Foam
Orthopedic, Gel Memory foam, Breezy Inner Cover,
Removable Smart Zipper Cover
Anti-skid Base Fabric
Zero Partner Disturbance, No Harmful Chemicals
Warranty Details: 10 years on product
SleepyCat Original and Plus is an orthopedic mattress with gel memory foam and also SleepyCat provides high-density base foam to give you the best sleep experience and comfort for your body.
Orthopedic memory foam offers you many functions and also helps you reduce your back pain, joint pain, neck pain, etc. And the SleepyCat mattress comes with the Smart Zipper cover.
And it makes it easy to clean your mattress quickly. SleepyCat is the best mattress brand in India. You can sleep in complete comfort with the SleepyCat.
It has a full support foam design and this mattress will reshape according to your body weight. And also SleepyCat mattresses give you good durability with comfortable sleep.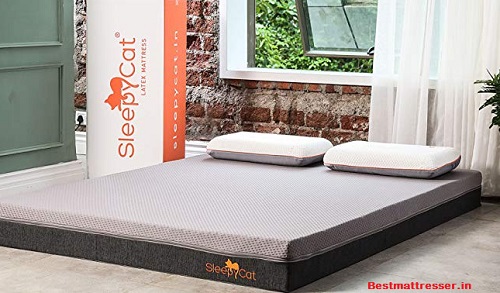 SleepyCat Latex Mattress Features:-
Dimensions: Length (72 x 72 x 7 inches)
2-inch Natural Latex
High-Density Base Support Foam
100% Natural Latex, 7 Zone Support
Removable Smart Zipper Cover
Anti-skid Base Fabric, No Harmful Chemicals
Warranty Details: 10 years
SleepyCat Latex Mattress is the best mattress for the health of your body and your skin. Latex is a purely natural material that comes from a rubber tree. The latex mattress brings you many benefits.
The greatest benefit of latex is a pure and highly durable natural mattress for many years without losing the quality of the mattress. You can check Amazon reviews and ratings by clicking here.
SleepyCat Latex has just the right amount of fluffiness and keeps you warm in cool, cool summer weather. If you don't want to compromise your comfort level, this mattress is perfect.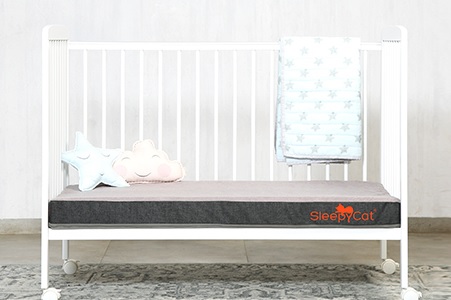 SleepyCat Mattress Features:-
100% Organic 4-Inch Latex Mattress
Premium Waterproof Zipper Cover.
Fully Washable. Anti Skid Base
Anti-Microbial And Hypoallergenic
10-Year Warranty
This mattress is made especially for babies or children and the SleepyCat mattress provides all the features for your baby to sleep more comfortably.
Because sleep is very important for your baby to grow well. SleepyCat mattress reviews and ratings are good in India.
The SleepyCat mattress is antimicrobial and hypoallergenic, which means you don't have to worry about your little baby having an allergic reaction from bed and keep their skin healthy.
So this is the best mattress for kids in India.
I hope you like this information and find a useful review if you have any questions you can ask me by comment.
Thanks for reading this article.