Today we are going to compare Wakefit vs Sleepycat Mattress. Because these two are very popular right now Wakefit and Sleepycat Mattress.
Both Mattress is giving the best quality products in India but now I will give you a comparison side to side.
Most people want to buy the best mattress in India but these two brands are famous Wakefit and Sleepycat. So we discuss all the points like price, features, review, and ratings.
And make it easy for you to decide which mattress is better for you So keep reading the comparison of Wakefit vs Sleepycat mattresses.
Quick Comparison of Wakefit and Sleepycat
The best mattress gives you a good sleep experience with great comfort and body support. So it is very important to choose a mattress for better sleep.
Both companies making different kinds of mattresses So let's talk about which kind of mattresses are available. Wakefit Vs Sleepycat is manufacturing different types of mattresses.
Wakefit Mattress
WakeFit is making two mattresses which one is support Orthopedic Memory Foam and the second is Dual Comfort Mattress.
So the Dual Comfort Mattress you can use both sides as per your requirements or weather changes the first side has Soft Foam and The second side has High Resilience Foam.
Wakefit Mattresses types:
Sleepycat Mattress
SleepyCat has three mattresses and all the mattresses support Orthopedic Foam. All SleepyCat mattresses are used similar materials and also look are similar. So there is no more difference.
Sleepycat Mattresses types:-
Materials Used: Wakefit VS Sleepycat
Wakefit:
This mattress is used High Resiliency Foam, Next Generation Memory Foam as you can see image below. This mattress is most suitable for those who have back pain and not getting comfortable while sleeping.
The Dual comfort mattress is giving you the options for both sides usable. So the One side is Soft Foam And the Second Side is High Resiliency Foam.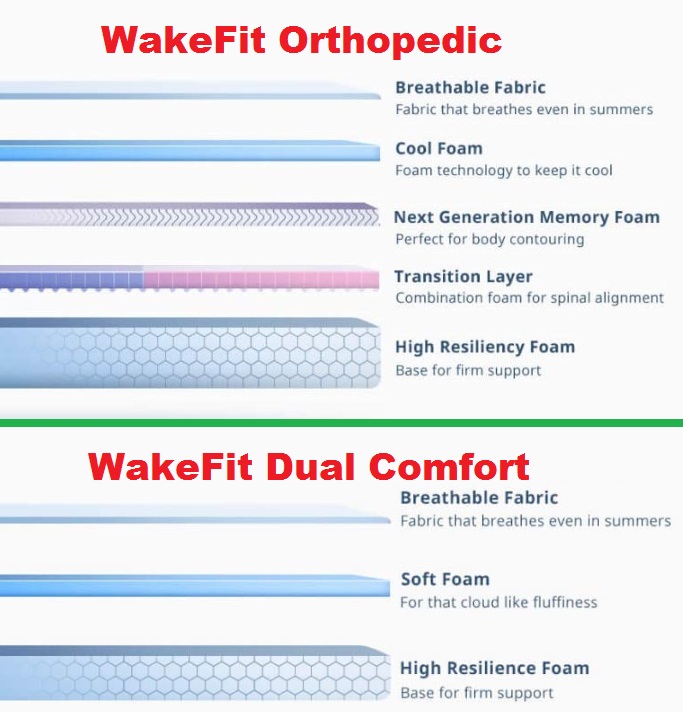 Sleepycat:
The High-Density Foam, Gel Memory Foam, Anti Skid Base, and more Used material in this mattress as you can see in the image below:
So this mattress is called Plus mattress because of the Size and Height of the Original Mattress. Like increase 1 Inche High-Density Foam & Gel Memory Foam.
This mattress is manufactured for sleepers to give a more Softer and Comfortable feel.
This material is used 2 inches Latex Foam and 5 inches High-Density Foam and also has a Smart Zipper Cover. So this mattress is made with Natural Latex to gives luxurious comfort and supports.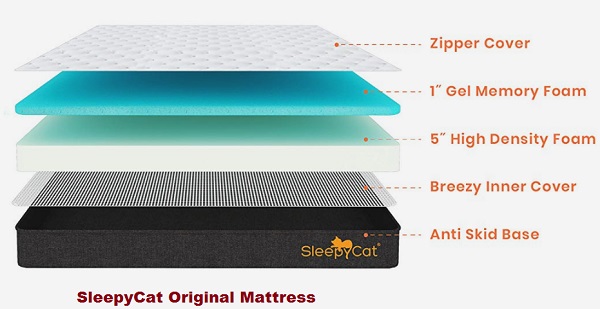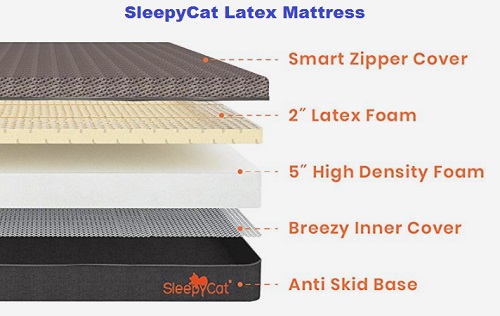 Materials Used
WakeFit and SleepyCat mattresses use High-Quality Materials but Sleepycat has additional features.
And the Sleepycat uses Gel Foam to keep you cool in summer So this mattress is good for maintaining body temperature.
Wakefit Vs Sleepycat Mattress Price Details
Wakefit:
Dual Comfort Mattress: Rs. 4718.00 to Rs. 11500.00 Buy Now
Memory Foam Mattress: Rs. 5835.00 to Rs. 19999.00 Buy Now
Sleepycat:
Comparison Price Details
As you can see the best mattress in India Wakefit mattress is the best and value for the money. SleepyCat is also the best but in the price segments, SleepyCat price is a little higher.
In the price segments, WakeFit is offering Affordable Prices for all persons. When we compare in the price segment Wakefit comes at an affordable price range So Wakefit mattress is the best mattress for you.
Mattress Features: Wakefit VS Sleepycat
Wakefit
The Wakefit Mattress feature is provided High-quality foam in Orthopedic Vs Dual comfort there is a difference only the one mattress gives two different comforts on both sides.
But most of people prefer Orthopedic mattress which is good for back pain, joint pain, etc.
1.Orthopedic Memory Foam Mattress Features:-
Length (78 x 72 x 8 Inches)
Color: White
Mattress Feel: Medium Firm.
Warranty: 10 Years Manufacturer warranty.
High-quality memory
SleepyCat Mattress
SleepyCat: SleepyCat Original and SleepyCat Plus feature is similar so there is a little difference in Size, Height and no more differences and all the features are the same between Original and Plus.
The SleepyCat Latex mattress feature is also similar but there is a use of Latex materials in this mattress and provide the 100% Natural Feel.
Dimensions: Length (78 x 72 x 6 inches)
Mattress Comfort: Medium Firm
High-Density Base Support Foam
Gel Memory foam
Breezy Inner Cover
Removable Zipper Cover
Anti-skid Base Fabric, Zero Partner Disturbance,
No Harmful Chemicals
Warranty Details: 10 years on product
Wakefit VS Sleepycat – Ratings and Reviews
Both of mattress company has the same rating on amazon. There are no changes or Differences in the Rating sections.
You will found good ratings and reviews on all platforms so you can also see the ratings and reviews on the Amazon site by click here.
Wakefit mattress
Dual Comfort Mattress: 4.6 Out of 5
Memory Foam Mattress: 4.6 Out of 5
SleepyCat mattress
Original Mattress: 4.6 Out of 5
Plus Mattress: 4.6 Out of 5
Latex Mattress: 4.6 Out of 5
WakeFit Vs SleepyCat: Best mattress brands in India
If you want to know which is the best brands in India WakeFit Or SleepyCat Both companies have great goodwill in India provide quality mattresses in India.
So both mattresses company is the best brands in India and also has good ratings on Amazon shopping site.
Which is Better Wakefit or Sleepycat?
Both mattresses are popular brands and also have different qualities and features. But Wakefit is a better choice comparing to Sleepycat. Because Wakefit provides the Next-Gen Memory Foam at Affordable Prices.
What is the price of Wakefit mattress?
The Wakefit provides two types of mattress in India As mention below:-
Dual Comfort Mattress: Rs. 4718.00 to Rs. 11500.00
Memory Foam Mattress: Rs. 5835.00 to Rs. 19999.00
Which is Better For Back Pain Wakefit or Sleepycat?
Both mattresses provide Orthopedic Features to Reduce your back pain. Additional Sleepycat provide Gel Memory Foam to Absorb your body heat and keep you cool.
Final Decisions
All the mattress is good in all sections, there are little differences between Wakefit vs SleepyCat. Both the best mattress brands in India.
When we are talking about the price of the mattresses Wakefit is the winner because Wakefit is providing the affordable price of all mattresses dual comfort and Orthopedic Wakefit vs SleepyCat mattress.
If you have money to buy Premium Quality Mattress then you can go for SleepyCat Because SleepyCat mattress is providing some extra features like Gel Memory Foam, Premium Quality Zipper Cover and etc.
Value for money – WakeFit Mattress
Premium Quality Mattress – SleepyCat Mattress
I hope you like comparison and found helpful information if you have still any query about both mattresses you ask by comment.
Thank you for reading.
Also, read these articles: