Get ready to begin your journey to improved sleep with an introduction to the Flo Ergo mattress review. 😃
In this review, we'll take a close look at what makes the Flo Ergo mattress special, including its strengths and weaknesses.
No more restless nights – we're here to help you understand why this mattress could be the answer to your sleep problems. Whether you sleep on your side, back, or side, the Flo Ergo mattress may be just the solution you're looking for.
Let's begin our quest for a more comfortable and restorative night's sleep. 🤨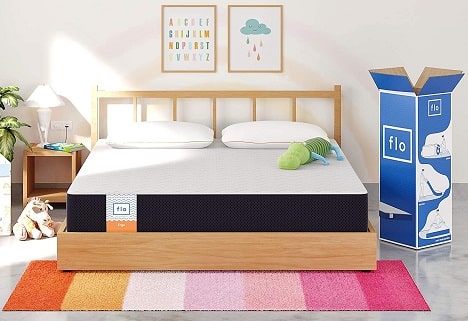 Mattress features
High-Density foam 

Orthopedic support
Gel memory foam

Warranty: 10 Years
Meet your new best friend for sleep – the Flo Ergo Mattress. It's built to make you cozy and keep you supported. No matter how you like to sleep, it's got your back. No more tossing and turning. It's time for sweet dreams.
Now we going to discuss everything about the Flo Ergo mattress, so keep reading this article.
Flo Ergo mattress packaging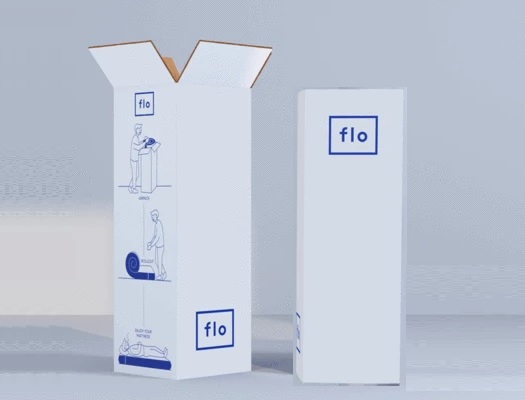 Flo uses special technology to vacuum pack this mattress and shrink it to a third of its size – this helps us ship it in a box!
And the mattress in the box is slimmer than your body.
Just open this box in your room, tear open the plastic cover, and watch the magic unfold as your mattress slowly expands into its original size.
The Flo mattress packaging is very simple and comes in a tiny Box. It's really that simple!
This mattress is easily delivered to your home because this mattress has a pack by rolling
And Seal Pack with a plastic. So when you open this mattress it will take its original shape in a few minutes
Overall the packaging of this mattress is very good.
When you place an order it will take 14-21 days for delivery, guaranteed.
Flo Ergo mattress design
The Flo Ergo mattress is designed for those who prefer medium soft, ergonomic support.
This mattress has been crafted from a top layer of white gel-infused memory foam, and a support (base) layer responsive foam.
If you are looking premium design mattress, this one is for you.
The top layer reduces tossing & turning by up to 80%, while the base layer responds to your body weight to provide optimum support for your spine.
This mattress comes with a zippered, removable, aloe vera gel-infused cover to keep your skin looking hydrated and youthful.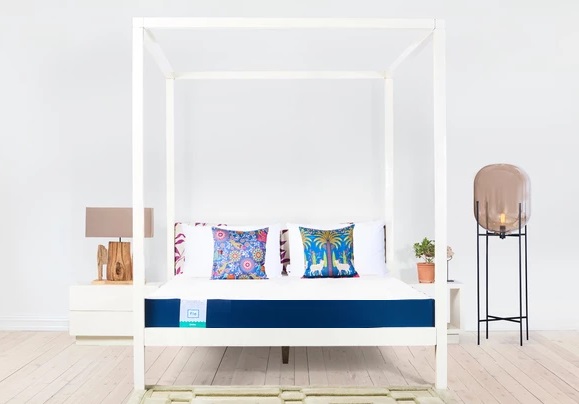 Flo Ergo Mattress Features:
UNCOMPROMISED BACK SUPPORT: The Ergo is recommended for those who prefer softer ergonomic support.
Our proprietary responsive poly foam forms the foundation of this mattress and ensures that no part of your body sinks into the mattress more than it should.
This layer responds accurately to pressure the more pressure your body exerts on the mattress, the more it reacts to support you.
It is constructed with a top layer of gel-infused memory foam that helps maintain the natural shape of your spine
SLEEP COOLER: Our foams are infused with white gel micro-capsules that absorb heat from your body when it is warm outside.
This warmth then travels to the periphery of the mattress where it is released away from your body via our 3D air flow fabric. So while you're fast asleep, our mattress is hard at work
100-NIGHT TRIAL and 10-YEAR WARRANTY: You will get a 100-day free trial on the purchase of a mattress from Flo Mattress. Meaning if you do not like the mattress after 100 days of use, you can return it.
ALOE VERA GEL-INFUSED ZIPPER COVER: Our mattress comes with a unique Aloe Vera gel-infused zippered cover,
which not only protects your mattress but also keeps your skin looking relaxed and youthful.
ZERO PARTNER DISTURBANCE: Fully comfortable for Couples and when you sleep with someone who tosses and turns a lot in their sleep.
Flo Ergo Mattress Materials
Flo Ergo mattress is made from many different materials to provide comfort and firmness. Here's a simple breakdown of what's inside: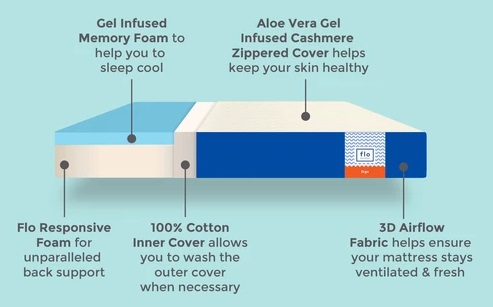 Flo Ergo mattress layer explained
The Flo Ergo mattress is like a sandwich but instead of bread, it's made up of layers of comfort. Let's break it down:
Top layer – Gel Memory Foam: Imagine the top layer is a cute, soft cloud. It's made of memory foam that remembers your body shape, making you feel like a bug.
Middle layer – Support foam: Just below the cozy cloud is a dense layer of foam. It is like the spine of the mattress. It keeps your body aligned, so you don't wake up feeling squirmed.
Bottom layer – Solid base: At the bottom, there is a sturdy layer to keep everything in place. It is like the box spring of a mattress, ensuring that the mattress is not completely crushed.
Breathable Cover: It's like the mattress's pajamas. This coating helps the mattress breathe so you don't get too hot while sleeping.
Why it's great: All of these layers combine to give you a very comfortable sleep. The memory foam hugs you, the dense foam supports you, and the sturdy base maintains its shape. Additionally, the breathable shell prevents you from sweating.
In short, the Flo Ergo mattress has layers that work together to give you the smoothest, most comfortable sleep possible.
Flo Ergo Mattress Price
Here is the price range of the Flo Ergo mattress.
| Flo Ergo Mattress | Price Range (Approx.) |
| --- | --- |
| Single | ₹4,541 – ₹10,378 |
| Double | ₹6,165 – ₹11,745 |
| Queen | ₹7,362 – ₹15,733 |
| King | ₹8,601 – ₹20,358 |
Please note that these prices are approximate and may vary based on factors like promotions, discounts, and specific retailers. It's a good idea to check with the manufacturer or authorized sellers for the most up-to-date pricing information.
To see the Latest Prices on Amazon Click Here
Advantages and Disadvantages – Flo Ergo Mattress
Keep reading the Flo Ergo Mattress Review Because all the products come with Pros and Cons. With the help of Pros and Cons, you will get more information and ideas about the product.
So let's check out the Advantages and Disadvantages of Flo Ergo Mattress.
Advantages
Comfortable to sleep on.
Good for your back and body.
Lasts a long time.
Doesn't cost too much.
Disadvantages
Some people might find it too firm.
Not as soft as some other mattresses.
Why Choose Flo Ergo Mattress?
This mattress provides you a lot of features with a premium quality mattress and also you will get a 10-year guarantee
And offered a 100-day free trial on the purchase of a mattress from the Flow mattress.
Meaning if you do not like the mattress after 100 days of use, you can return it.
Its dual benefit was that the customer could connect directly with the company. Also, the price of high-quality mattresses could be reduced.
Due to this strategy, the cost of the mattress could be 50 percent. There are many reasons to Buy Flo Ergo Mattress.
Conclusion: Flo Ergo Mattress Review
Our final decision for Flo Ergo Mattress this mattress has a lot of features in one mattress and also company provides 100 days of risk-free trials
And this mattress has good reviews on all platforms like Amazon and other Social sites.
Overall our final decision is the Flo Ergo is a perfect mattress for all sleepers. Because there are many reasons and features. As you can see I have already mentioned all the pieces of information in this Flo Ergo Mattress Review.
If you want to buy this mattress Click Here to go on the Amazon site.
FAQs- About the Flo Ergo Mattress
What makes the Flo Ergo mattress unique?
The Flo Ergo mattress features an exceptional ergonomic design, intended to provide a comfortable and supportive sleeping experience. It is created to accommodate different sleeping positions and body types.
Is the Flo Ergo mattress suitable for side sleepers?
Yes indeed! The Flo Ergo mattress is designed to accommodate side sleepers, providing the right balance of softness and support to keep your spine aligned.
Can I use the Flo Ergo mattress on an adjustable bed?
Absolutely. This mattress is compatible with an adjustable bed frame, giving you the flexibility to find your preferred sleeping position.
Does the Flo Ergo mattress have a cooling function?
Yes, it does. The Flo Ergo mattress features cooling gel-infused memory foam to regulate temperature and prevent overheating at night.
How long is the warranty period of the Flo Ergo mattress?
The Flo Ergo mattress is backed by a 10-year warranty, providing lasting peace of mind.
Does the Flo Ergo mattress have a trial period?
Sure. You can take advantage of the 100-night risk-free trial period to determine if this mattress meets your sleeping needs.
How to clean and preserve the Flo Ergo mattress?
Cleaning is hassle-free. Simply use a mattress protector and clean up any spills. Rotating the mattress every few months will help maintain its shape and longevity.
If you have any queries, please post them in the comment box. I hope you enjoyed reading the Flo Efgo mattress review and found it informative.
Thanks for reading it.😊