Today, we are going to review the Sleep Company mattress. In this article, you will get all the details and information about The Sleep Company mattress.
According to science, taking 8 hours of sleep is a very important thing for every human being, and if you do not get enough sleep for 8 hours. So you may have problems like stress and anxiety. And to get good sleep, you need to have a good sleeping mattress.
If you do not use a good mattress. So you may have problems like back pain and body pain. That's why in today's time it is very important to get a good mattress.
To solve your problem we have prepared this article for you on the mattresses of India's best mattress company The Sleep Company Mattress Review. With the help of this review, you will be able to know well about The Sleep Company's Mattress and will be able to buy a comfortable mattress for yourself.
So here are the mattresses of The Sleep Company to buy the mattress at the best deals and prices.
Image
Product
Details
Price
Smart Luxe
Reviews: 1650+ Ratings
Firmness: Soft like cloud
View On Amazon
Smart Ortho
Reviews: 1400+ Ratings
Firmness: Medium Soft
View On Amazon
Smart Luxe Hybrid
Reviews: 750+ Ratings
Firmness: Extra Soft
View On Amazon
Smart Ortho Hybrid
Reviews: 400+ Ratings
Firmness: Medium Soft
View On Amazon
First of all, We will talk about the material of the mattresses:
It is the most important thing in any mattress. it's material. Because the material will not be good. So it will not be comfortable. The Sleep Company Mattress is made without memory foam, spring, and latex material.
The Sleep Company uses Smart Grid technology in its mattresses. Which is very well researched and comfortable technology. Their mattresses are quite comfortable. You get this Smart Grid technology in all the mattresses made by them.
The Sleep Company Mattress Layers Composition: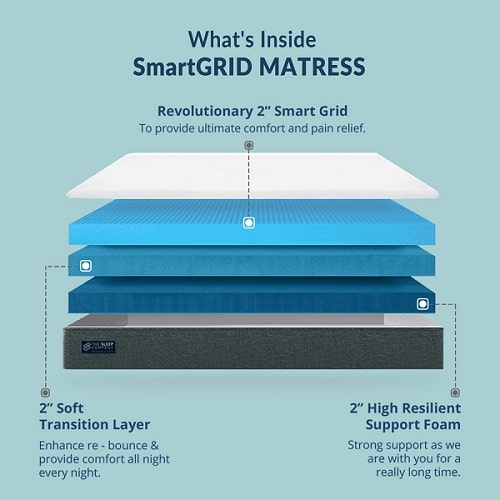 In this mattress, you get 4 layers. The information of which is given below.
Layer 1: The first layer is a soft viscous 100% cotton. Which is quite soft breathable. The durability of this cotton is very good.
Layer 2: Then in the next layer you get a layer of 2 inches of Smart Grid. And you get to see this layer in all the mattresses.
Layer 3: In the third layer, a soft transition layer of 2 inches is found in it. Which provides you all-time comfort and re-bounces.
Layer 4: And in the last layer of this mattress, 2 inches of high resilient support foam is available. Which gives durability and long-time support to these mattresses.
Now we talk about What is Smart Grid technology and how does it work?
What is Smart Grid Technology?
Smart Grid technology is a unique and different type of sleeping technology. Which is much better than all other technology. This technology offers you a lot of comfort and bounciness without sagginess.
How does Smart Grid Technology work?
So first of all let's talk about which material SmartGRID technology is made with the help. This smart grid is made of a very comfortable hyper-elastic polymer material. Which has been later converted into many small grids with the help of technology. Which can provide even more comfort.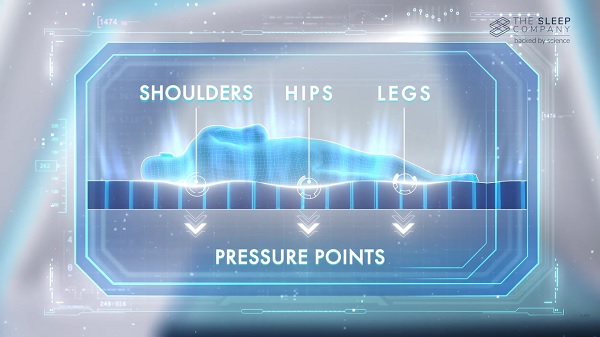 With the help of this SmartGRID 25000 Grids are created. Which helps in keeping your body temperature cool and making the mattresses breathable. And then a soft layer of 100% Cotton Viscous is applied over this 25000 Grid. Which provides you with even more comfort with smart grid technology.
Smart grid technology provides mattresses with a bounciness and the power to handle body curvature. Which can keep your neck, shoulders, spinal cord, and hips comfortable all night.
The Grid available in this not only provides you comfort but also provides support to your body posture while sleeping. You should stay away from all types of body pains.
Smart Grid Technology Vs Memory Foam Comfort Test:
So a test was done to know the comfort of the smart grid. Between Smart Grid and Memory Foam. In this test, an egg was dropped on both the mattresses from one evening height and if the egg does not break when it falls on the mattress then its comfort is good.
It is believed so. The egg broke on the mattress of memory foam. But the egg did not break on the same Smart Grid. Which shows how comfortable Smart Grid provides.
Advantages and disadvantages of using The Sleep Company Mattress:
Advantage:
It provides you lot of comforts.
Keeps your body cool throughout the night.
Memory foam has not been used in this.
It supports the posture of the body.
The Sleep Company offers 100-night trials on all its mattresses.
All Mattresses from The Sleep Company come with a 10-year warranty.
Disadvantage:
Due to the more comfort and bounciness in this mattress, you cannot eat while sitting on this mattress.
A normal person will take time to adapt to these mattresses.
Why Use The Sleep Company Mattress?
1. Material: Where we talk about all other Brand Mattresses. So mostly all brands use memory foam. Whereas only hyper-elastic polymer with Smart Grid Technology is used in The Sleep Company's Mattress.
2. Layers: In all brands, you do not get to see many layers for support and comfort. But you get to see 4 layers in The Sleep Company's Mattress.
3. Body Support and Bounciness: Due to the presence of memory foam in many mattresses, they do not support your body while sleeping and also do not have bounciness. And the Mattress from The Sleep Company offers very good body support and bounciness.
4. Breathable: 25000 grids have been made using Smart Grid technology in Mattress of The Sleep Company. Which makes mattresses breathable. If you sleep in reverse then you will be able to breathe easily.
5. SmartGrid Technology: You do not get SmartGrid technology in any other brand. Which makes The Sleep Company Mattress quite different from all the bras.
6. Size Availability: In Mattress of The Sleep Company, you get all types of size mattresses like single beds, king beds, queen beds, and custom size mattresses are also available.
7. Warranty: You get a 10-year warranty on The Sleep Company's Mattress. Which you hardly get from any other mattress brand.
Our Opinion
So in this article, we have reviewed The Sleep Company Mattress. We have given you almost complete information about The Sleep Company Mattress. About its material, technology, and comfort.
According to us, Mattress from The Sleep Company is the best mattress for a small or large family. Because you can hardly get warranty, comfort and size availability like this brand in any other brand.
I hope you like The Sleep Company mattress review and found it helpful information.
Thank you for reading it.