Whenever we go to buy a mattress, we have to take care of many things, but when it comes to popular brands, we do not have to think much about it.
In this article, we are going to compare the two most popular brands Wakefit vs Sleepwell. And we cover all the important points like price, features, design, and more.
If you want to know which mattress is better and why? So keep reading to know which mattress is good for you Wakefit or Sleepwell. Because the best mattress gives you better comfort and support to your body.
And also we have written a detailed comparison and analysis of Wakefit vs Sleepyhead and Wakefit vs Duroflex.
So here are the best mattresses of Wakefit and Sleepwell to compare all features, designs, and more.
Difference Between Wakefit Vs Sleepwell Mattress
Now, we are going to review each mattress of both brands. The best mattress gives more comfortable sleep and support to your spine.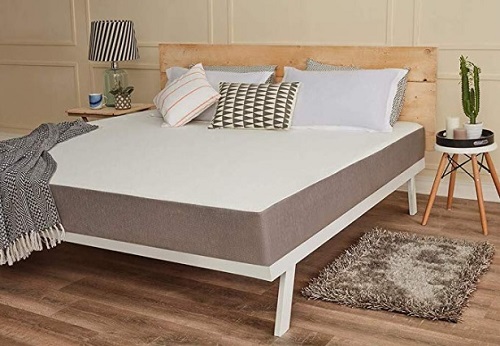 Mattress features
High-quality memory foam

Excellent back support
Enjoy a restful, deep sleep

Warranty: 10 Years
Type of mattress
The Wakefit gives you four types of mattresses and all mattresses come with different comfort qualities materials, and features.
We can use this mattress from both sides and we get to see different comfort levels on both sides. In this mattress one side is soft and one side is hard.
It is an orthopedic mattress and is specially designed to ease our back pain. This mattress changes its shape according to our body so that we can sleep well.
It is a latex mattress and it is considered very good as it does not use any kind of chemicals. And this mattress is very good for our body because it is a natural mattress which is made of a rubber tree.
The bouncy foam layer provides the bouncy feel, without the use of actual metal springs that are prone to wear and tear. It is durable and resistant to buckling.
It will not sag into a folded shape like a traditional spring mattress. The bouncy foam layer ensures that the mattress will bounce back.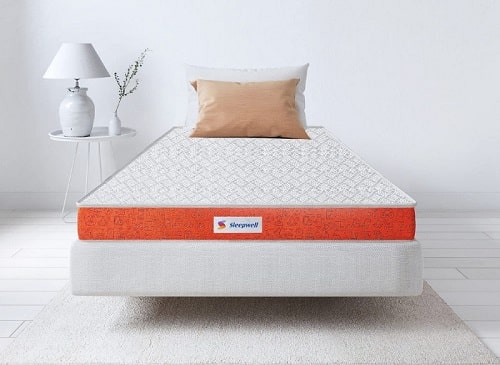 Mattress features
Neem Fresche technology

Premium zipped cover
Superior air circulation
Warranty: 5 years warranty
Type of mattress
Sleepwell mattress has lots of variety for different types of sleepers. So here is the best-rated mattress of both brands to buy Online.
This is a classic mattress in which you get a good amount of comfort and support. In this mattress, Sleepwell has used Neem Fresh Technology to protect you from all these dust miles.
It's like a dual comfort mattress but with a different design. In this mattress, both you and your partner can enjoy different comfort and support.
View Sleepwell Store for more mattresses
Mattress Design
The Mattress design is very important to make your bedroom more beautiful. And both mattresses give you a different look so it depends on your color choice or design.
The Wakefit design is a simple design but Sleepwell has lots of designs for choice.
Features & Materials: Wakefit vs Sleepwell
Both mattresses are using premium quality materials to increase your sleeping experience and durability. So you need to worry about the quality of the materials.
But both mattresses give you different comfort and support this is because of mattress features. If you ask me which better Wakefit vs Sleepwell mattress.
So my choice is Wakefit because you will get some extra features from the Sleepwell mattress.
Wakefit Mattress
The Wakefit gives you advanced features with the latest technology at an affordable price. And Wakefit mattress gives you comfortable sleep and also reduces your body pain and relief your pressure points.
Sleepwell Mattress
The Sleepwell mattress is also good for sleeping and you will get limited features. And Sleepwell you will get all features but you need to buy an expensive mattress of Sleepwell.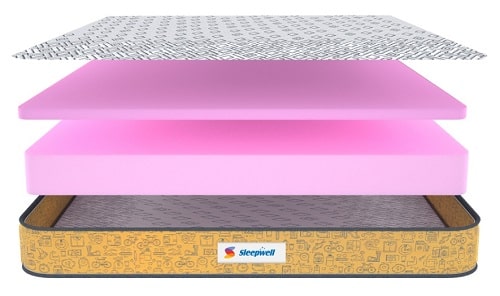 Mattress Size
There is no problem with both the mattresses when it comes to size. Because Wakefit and Sleepwell offer a lot of mattress size options to buy online.
You just need to know the size of your bed at the time of purchase. If you would like more information on mattress sizes, read this Indian mattress size.
Wakefit Vs Sleepwell Mattress Price Details
Wakefit:
Dual Comfort Mattress: Start From Rs. 4718.00 Buy Now
Memory Foam Mattress: Start From Rs. 5835.00 Buy Now
Sleepwell:
Sleepwell Cocoon Feel Mattress: Start From Rs. 6,389.00 Buy Now
Our Conclusion
A Wakefit mattress is a good option for all people because you will have all the best features and quality at an affordable price.
So I don't think to invest in buying an expensive mattress if you have a good budget then go for the premium quality mattress from Sleepwell.
I hope you like found helpful information on this site. If you have any queries you can ask by comment.
Thank you for reading this article