Coirfit and Sleepwell is a very old mattress brand in India. And both mattress brands make different types of mattresses.
In this comparison, we discuss all the important points like price, design, features, and more. So keep reading if you want to know which mattress is good for you.
This comparison helps you to make the right decision you will get all details of Coirfit vs Sleepwell mattresses to make it easy for you.
Because everyone has their own requirements and needs when it comes to mattresses like some people love medium-firm and others like hard.
Now see the best mattresses of Coirfit vs Sleepwell mattress in India right now.
Difference Between Coirfit Vs Sleepwell Mattress
Now, we are going to review each mattress of both brands. The best mattress gives more comfortable sleep and support to your spine.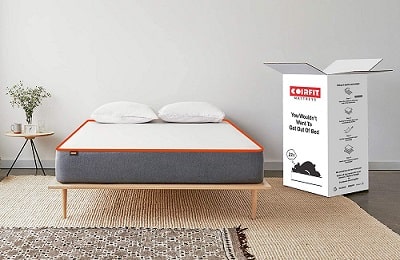 Mattress features
Dimensions: (78x72x8 Inches)
High-quality memory foam
Excellent back support
Open Cell Foam

Warranty: 10 Years
Coirfit is an Indian-based company and manufacturing mattresses for more than 34 years. It has lots of products like Sofas, Mattresses, Pillows and more. And Coirfit has good experience and above 1 million satisfied customers. So this is the best mattress brand in India.
Types of Mattresses
Coirfit makes different types of mattresses like Memory foam, Spring, Latex, Coir, and more. So you can choose any type of mattress according to your need. You can also see more details for specific mattresses.
All the mattresses are made with different materials because of the material you will get different comfort and support. so make sure to choose the right mattress.
Mattress Design
Both mattresses are made with memory foam and also surface looks similar. And Coirfit used the Non-Skid base Fabric to avoid any slips and provide a better grip.
Another advantage of this mattress is the temperature-regulated sleeping surface that freshens and fastens air circulation due to the open cell structure of memory foam employed.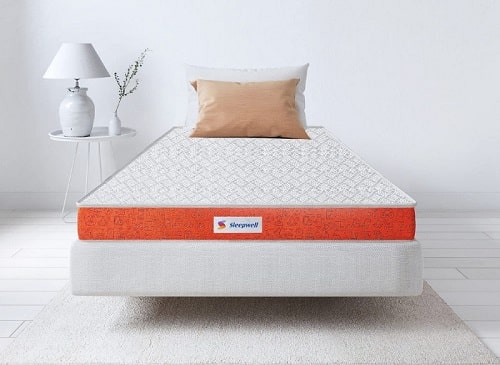 Mattress features
Dimensions: (72 x 70 x 5 inches)
Neem Fresche technology
Premium zipped cover
Superior air circulation
Warranty: 5 years warranty
Sleepwell is the most popular mattress brand in India and has good experience in the mattress industry. Sleepwell provides different types of mattresses for multi-purposes. This mattress is a firm feel it provides the optimal support and superior air circulation
Mattress Design
Sleepwell GenX is the latest mattress in India It is Smooth Touch with Knitted fabric making sure that both partners get exactly what they want while sleeping.
The Anti-microbial technology is integrated into all Sleepwell mattresses to protect you from dust mites, allergies, and breathing disorders.
Types of Mattresses
Sleepwell has varieties of mattresses for different sleeping experiences. In this comparison, we have chosen the latest model of the Sleepwell mattress. You can also take look for other Sleepwell mattresses.
All these mattresses are made with different materials so make sure choose the right mattress for your home.
FAQs for Coirfit and Sleepwell mattress
Is Coirfit a good company?
Yes, Coirfit provides good quality mattresses in an affordable price range. And many customers buy Coirfit mattress because It is Affordable and of good quality.
Which quality mattress is best?
It depends on your requirement but most people love to buy a Memory foam mattress which is a very popular mattress.
Which mattress is best for daily use?
Coirfit mattress and Sleepwell mattress are good for daily use. And Both mattresses provide good comfort and support.
Our Opinion
In this comparison, we have found Coirfit mattress is a good option. Because some extra layers than Sleepwell mattress. And also gives you the 10 years warranty.
I would advise you to buy the mattress according to your budget and requirements.
So I hope you like this comparison of Coirfit mattress vs Sleepwell and found helpful information.
Thanks for reading.