Today, we are going to compare two mattress brands Wakefit and Sleepyhead. Both mattress brands are very popular right now.
So we decide to compare Wakefit vs Sleepyhead mattresses to know the differences. Because the right choice is very important for comfortable sleep.
Wakefit and Sleepyhead is the best mattress brand in India. Most people are confused when choosing the best mattress.
So keep reading this comparison if want to know which mattress provides extra features and benefits
In this comparison, we cover all the important points like features, design, price, and more. It helps you to make the right decision.
Both brands make different types of mattresses so let's talk about the best mattresses of Wakefit and Sleepyhead.
Difference Between Wakefit Vs Sleepyhead Mattress
Here is some important information about Wakefit and Sleepyhead. As you see all the details mention below: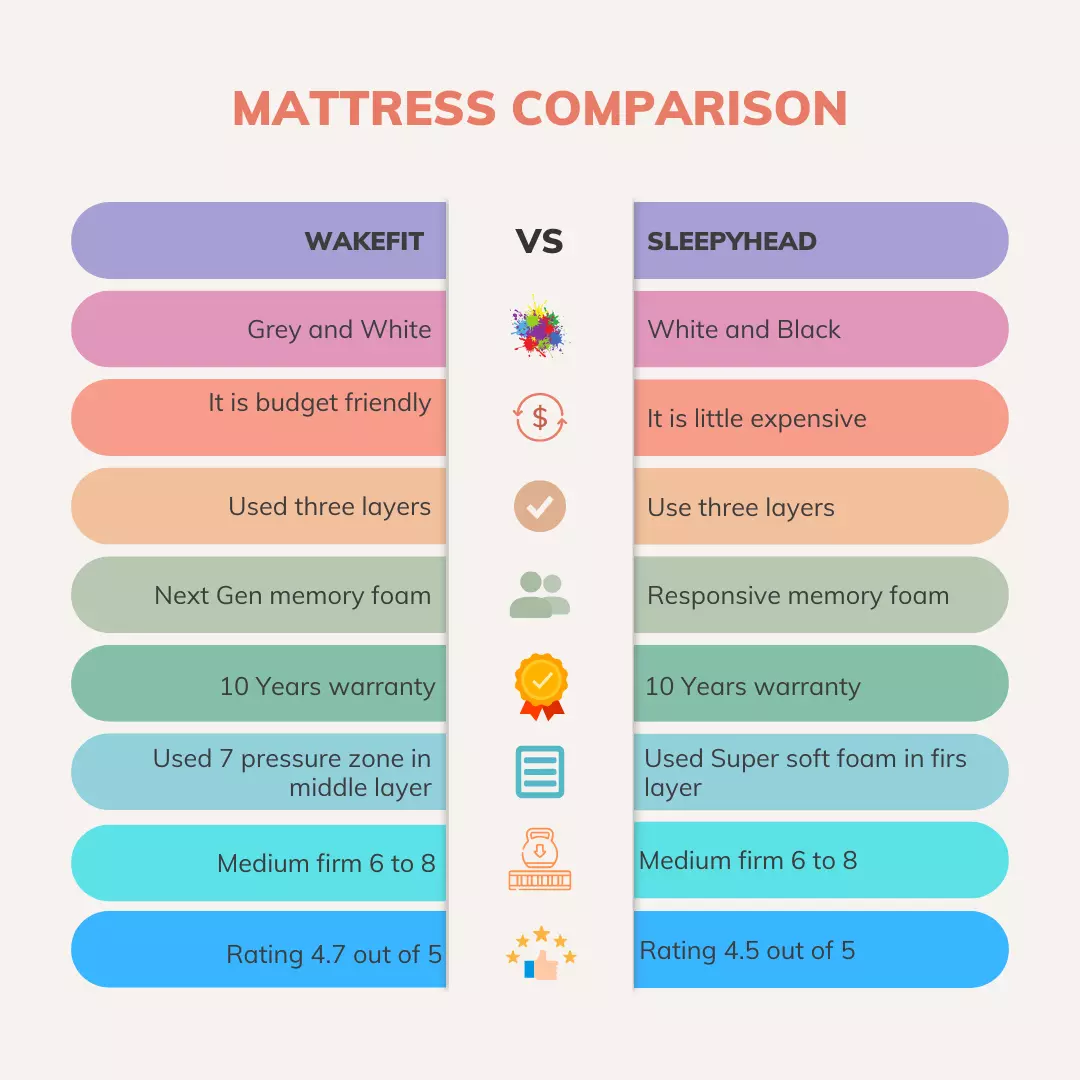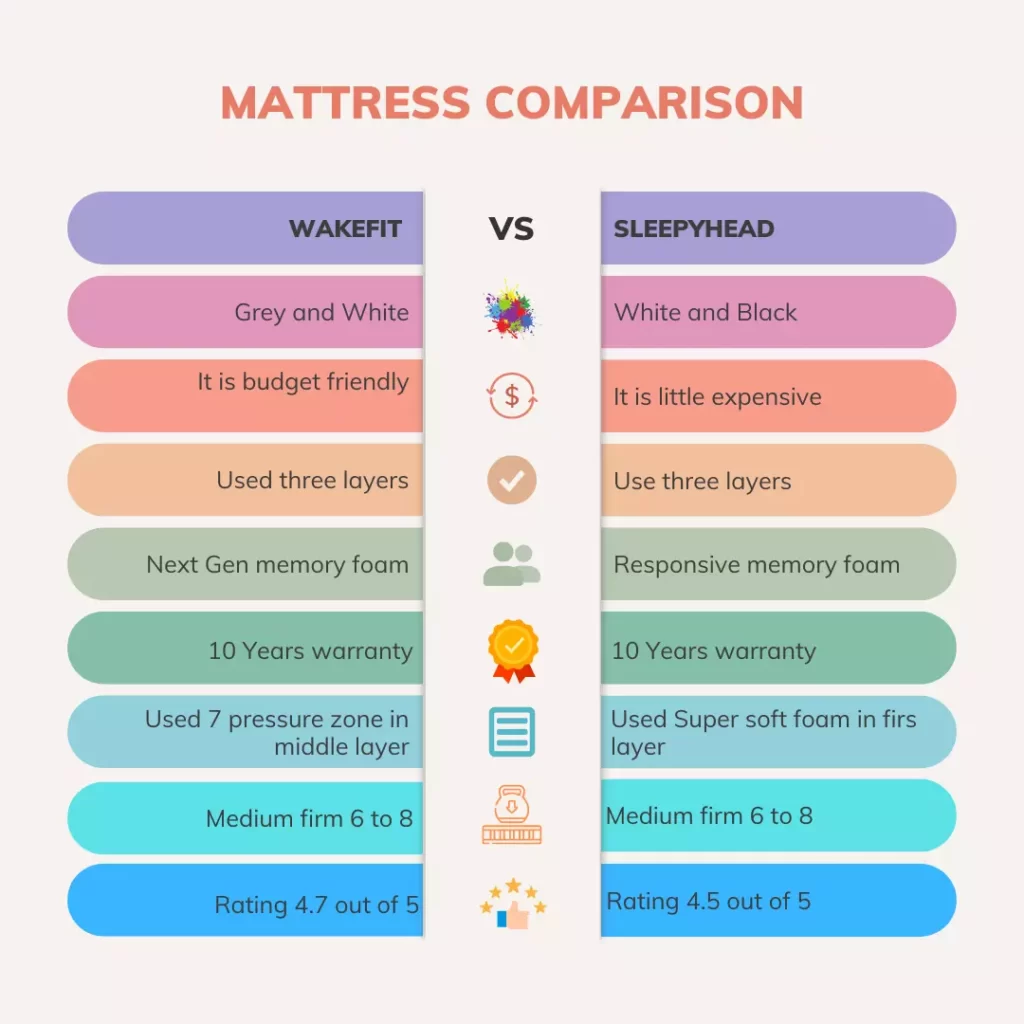 Now, we are going to compare each mattress brand in detail to know which mattress is good for you. Because every people have their own preference and requirement for a mattress.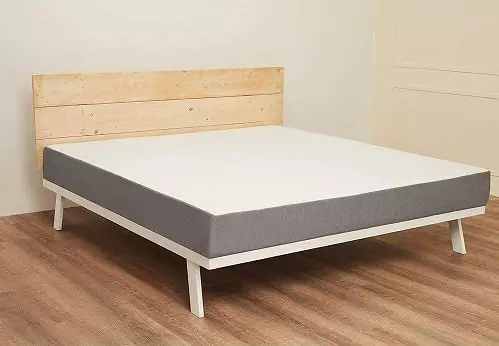 Mattress features
High-quality memory foam

Excellent back support
Enjoy a restful, deep sleep
Warranty: 10 Years
Wakefit is an Indian-based company and manufacturing mattresses since 2016. It is not a very old company but this is the best-selling brand in India with the most affordable price range.
That is why Indian people loved this mattress. Now Wakefit has thousands of happy customers in India which is a very great thing.
Types of Mattresses
Wakefit is making 4 different types of mattresses like Memory foam, Spring, Dual comfort, and Latex. So you can choose any type of mattress according to your requirement. You can also check more detail for the specific mattress.
This mattress is really helpful to reduce your back pain, neck pain, Joint Pain, and more because this mattress has Orthopedic features in this mattress. Used Material High Resiliency Foam, Next Generation Memory Foam as you can see in the image.
This kind of mattress is reversible and you can feel two different comforts and support by changing the surface of this mattress. That's why this name is a dual comfort mattress.
The Latex is a natural rubber derived from the sap of the rubber tree. It is a strong and durable material that is often used in mattresses, furniture, and other products.
It is the latest mattress of the Wakefit brand and this mattress has used a bouncy foam layer to make it more bounce like a Spring mattress. And it's an advanced technology for Spring mattresses.
Note:– All the mattresses are made with different materials because of the material you will feel different comfort and support so make sure which mattress type suits you.
Mattress Design
The Wakefit mattress design is very simple, and the surface color is white and grey. The orthopedic mattress has advanced zonal support technology that allows your shoulders to drop down and raise your hips so that when you lie down, your spine stops in a straight line.
Mattress Price
All Wakefit Mattresses are priced very attractively so you can buy them easily and the Wakefit price is much cheaper compared to Sleepyhead.
Materials & Quality
No doubt Wakefit uses high-quality materials in all mattresses. In this comparison, we show you the Wakefit memory foam mattress layers. In this mattress, Wakefit used three layers the first layer is Next Generation memory foam to keep you cool for comfortable sleep.
The second layer is the 7 Pressure Zone Layer to adapt your body according to your shape and weight. And the last layer is High Resilience Foam for body support and it also helps to increase your sleeping experience.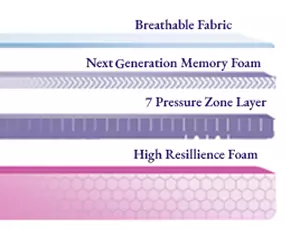 This material layer is almost similar to Sleepyhead Original mattress and both mattress brands provide good quality products.
Warranty
All Wakefit brand warranty depends on mattress materials and quality. The Wakefit orthopedic mattress warranty period is 10 years. And you can check each mattress's details on the product page.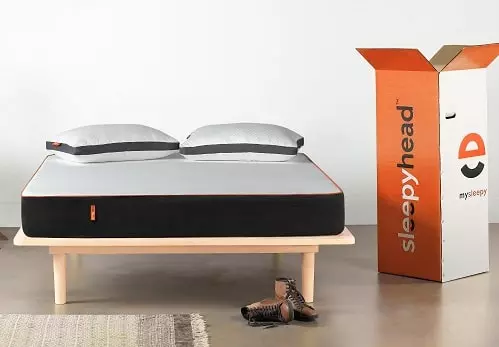 Mattress features
High-Density HR Foam 

Orthopedic Support
Free 100 Nights Trial
Removable & Washable Cover
Warranty: 10 Years
Sleepyhead is a multi-national company that makes high-quality mattresses. And Sleepyhead has great experience because this company is older than Wakefit.
And Sleepyhead is the most demanded mattress in India. The big reason is a medium-firm mattress. It is not only highly supportive but also rates highly on the softness that we all desire.
Types of Mattresses
Sleepyhead also has 4 mattress models with different features and quality. So is totally up to you which type of mattress you love. Because all mattresses come with different budgets. And you see the Sleepyhead mattress mentioned below:
This mattress supports Orthopedic features to give you many benefits like Relief your back pain joint pain and more. And also good body support.
This has also Orthopedic features but you will get some additional features like zone support. How does it work? When you lie on the mattress you feel the mattress change shape according to your body weight and alignment.
This provides you with different sleeping experiences on different sides. It means you and sleep on both sides to get a comfortable sleep.
All the mattresses are made with different materials because of the material you will feel different comfort and support so make sure which mattress type suits you.
Mattress Design
Sleepyhead mattress is made of high-quality three-layer foam. The upper layer is Supersoft Foam, which is a comfort layer, the second layer is the pressure-relieving Memory Foam, which automatically responds and adapts to your body weight, and the lower layer is High-Density HR Foam, which provides optimal body support during rest.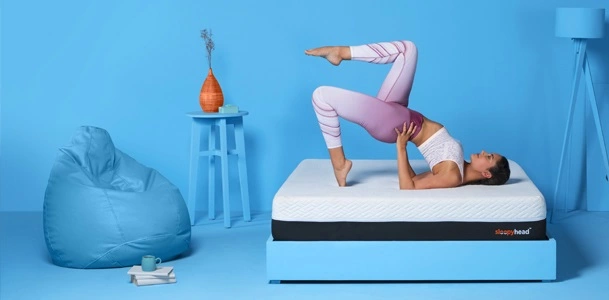 Sleepyhead Price
Both the mattress brand provides a good price range with great quality and features. You can also check the latest price of all mattresses by clicking these links mentioned below:
All the mattresses price may be change after some days because price are not fixed so please check the latest price.
Materials & Quality
Sleepyhead is a company that is dedicated to quality and customer satisfaction by providing premium-type mattresses. All mattresses are built with good quality material to increase the mattress's durability.
The Sleepyhead Original mattress also used three layers just like the Wakefit mattress and you can see all layers in the image mentioned below: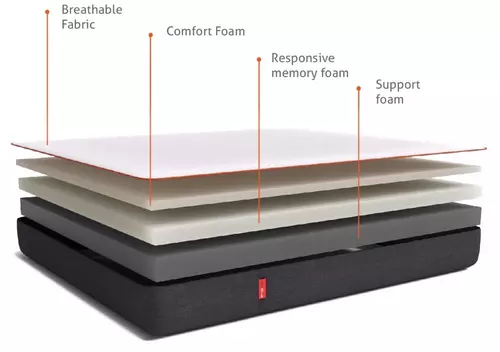 Sleepyhead is a more comfortable mattress according to public reviews and it has 4.6 rating out of 5 which is very good for this mattress. And Wakefit is 4.5 rating for quality sleep experiences.
Warranty
The warranty duration depends on the mattress materials and The Dual comfort mattress warranty is always lesser than memory foam mattresses. And all warranty details are mentioned on each mattress product page.
Our Conclusion
Wakefit and Sleepyhead have some different features. If you like all-rounder "Sleepyhead" is one of the best options for you which gives you multi-features at affordable prices.
In the price segment "Wakefit" is also a good option with great features and design.
I hope you like the comparison of Wakefit vs Sleepyhead mattress. if you have any queries feel free and ask by comment.
Thank you for reading this article.