Wakefit vs SleepyHead Mattress
Wakefit and Sleepyhead is the best mattress brand in India. Most people are confused when choosing the best mattress. Wakefit Vs Sleepyhead to know which mattress is better for you. keep reading to get the full comparisons.
Wakefit and Sleepyhead is the best selling product in India but the "Wakefit" is the highest-selling mattress. Sleepyhead is making 3 types of mattresses and Wakefit is making 2 types of mattresses.
Both companies making different kinds of mattresses So let's talk about Wakefit vs Sleepyhead which kind of mattresses available. And You can check the latest price of Wakefit and Sleepyhead.
Wakefit Vs Sleepyhead Mattress
Here is some important information about Wakefit and Sleepyhead. As you see all the details mention below: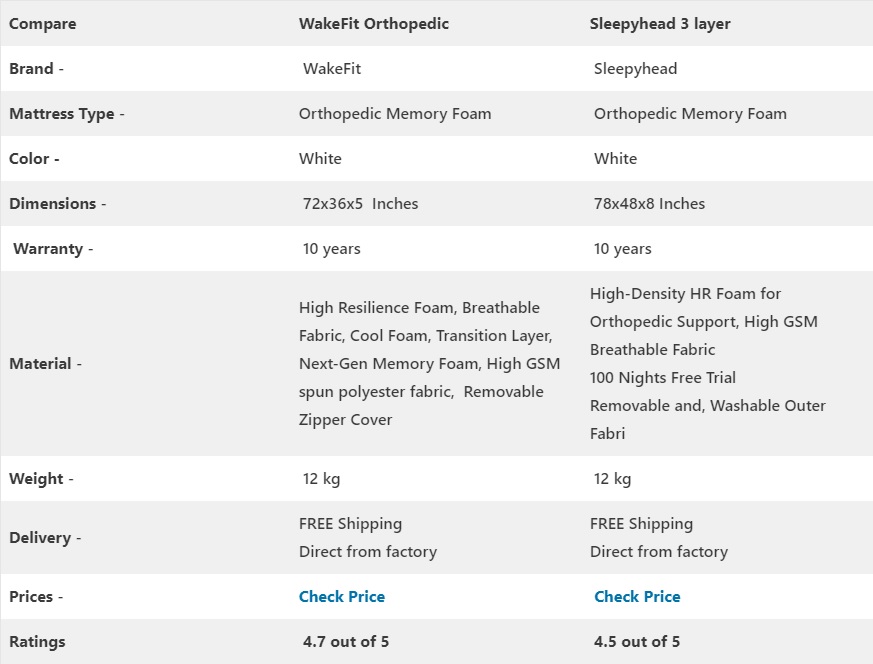 Wakefit Mattresses
There are two types of mattresses of Wakefit. The first one of Wakefit "Orthopedic Mattress" and the second is "Dual Comfort Mattress". The Orthopedic mattress features help to reduce your back pain, joint pain, etc. And the Dual Comfort mattress provides both sides usable to get comfortable sleep and good body support.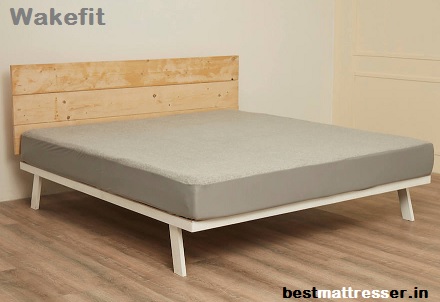 Type of Wakefit Mattress:
Sleepyhead Mattress
The Sleepyhead provides three types of mattresses in India. The first mattress is "Sleepyhead Original" and the second mattress is "Sleepyhead Sense" and the last third mattress is "Sleepyhead Flip". All mattresses have different qualities and features.
Type of Sleepyhead Mattress:
Mattress Design
Wakefit mattress
The Wakefit mattress design is very simple, and the surface color is white and grey. The orthopedic mattress has advanced zonal support technology that allows your shoulders to drop down and raise your hips so that when you lie down, your spine stops in a straight line.
Sleepyhead mattress
Sleepyhead mattress is made of high-quality three-layer foam. The upper layer is SUPERSOFT FOAM, which is a comfort layer, the second layer is the pressure-relieving MEMORY FOAM, which automatically responds and adapts to your body weight, and the lower layer is HIGH-DENSITY HR FOAM, which provides optimal body support during rest.
Wakefit VS Sleepyhead: Materials Used
Wakefit:
Orthopaedic Memory Foam Mattress: This mattress is really helpful to reduce your back pain, neck pain, Joint Pain, and more because this mattress has Orthopedic features in this mattress. Used Material High Resiliency Foam, Next Generation Memory Foam as you can see in the image.
Dual Comfort Mattress: The Dual comfort mattress provides you the two different comfort levels in one mattress this is the best mattress for sleeping. You can use both sides according to weather conditions. The materials are used One side is Soft Foam And the Second Side is High Resiliency Foam.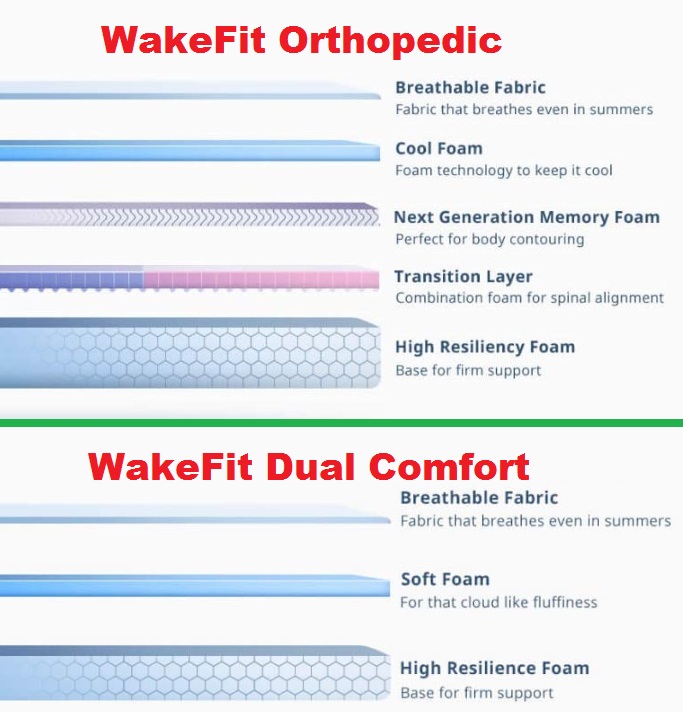 Sleepyhead:
Sleepyhead Original 3 Layered Orthopedic Memory Foam: This mattress support Orthopedic features to give you many benefits like Relief your back pain joint pain and more. And also good body support.
Sleepyhead Sense 3 Zone Support Orthopedic Mattress: This has also Orthopedic features but you will get some additional features like zone support. How it's work? When you lie on the mattress you feel mattress change the shape according to your body weight and alignment.
Sleepyhead Flip Mattress: This provides you different sleeping experiences on different sides. It means you and sleep both sides to get a comfortable sleep.
Wakefit Vs Sleepyhead Mattress Price Details
Wakefit Vs Sleepyhead Both the mattress brand provides a good price range with great quality and features. You can also check the latest price of all mattresses by clicking these link mention below:
Wakefit:
Dual Comfort Mattress: Starting from Rs. 4718.00 Buy Now
Memory Foam Mattress: Starting from Rs. 5835.00 Buy Now
Sleepyhead:
All the mattresses price may be change after some days because price are not fixed so please check the latest price.
Our Conclusion
Wakefit and Sleepyhead have some different features. If you like all-rounder "Sleepyhead" is one of the best options for you which gives you multi-features at affordable prices.
In the price segment "Wakefit" is also a good option with limited features and design.
I hope you like the comparison of Wakefit vs Sleepyhead mattress. if you have any query feel free and ask by comment.
Thank you for reading this article.
Also Read this Articles:

–