Today, we are comparing two mattresses of SleepX vs Wakefit mattress brand. And I am sure this comparison will help you to take the right decision for your new mattress.
In this post, we all important points like mattress features, price, design, materials, and more. And I will also give you my opinion about this mattress.
So keep reading this article to know which mattress is good for you SleepX or Wakefit. Both mattresses are going popular right now in India.
And we know the SleepX mattresses from the House of Sheela Foam, makers of the flagship brand Sleepwell.
Also, we know that Wakefit is the best mattress seller for the past three years. So here are the best mattresses of these brands SleepX and Wakefit.
Difference Between SleepX Vs Wakefit Mattress
Without any delay, we are going to compare each mattress to give you a detailed analysis. The comparison is a little difficult process but we make it easier for you.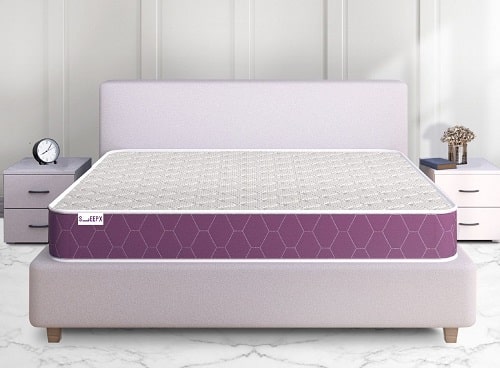 Mattress features
High-quality foam

Excellent back support
Enjoy a restful, deep sleep

Warranty: 7 Years
SleepX is the online selling mattress brand of Sheela foam ltd. And makes many types of mattresses at attractive price ranges. SleepX Collection of Ortho Memory Foam Mattresses, Dual Comfort Cool Gel, and Half-Half Ortho Firm and Soft Memory Foam Mattresses.
All SleepX mattresses are free of toxic substances and chemical products to promise a peaceful and safe sleep.
Type of mattress
SleepX makes different types of mattresses in India and you can select mattress type as per your requirement. To see all collection of mattresses you need to visit the Online store of SleepX.
The Dual Comfort Mattress gives you two comfort levels in a single mattress. The firm surface gives you superior body support. The softer side gives you extra comfort for deep sleep.
The Ortho memory foam mattress gives you an extra boost of back support and more. and the inner layers ensure your spine stays trouble-free. The SleepX mattress use Next Gen memory foam that keeps you comfortable while you sleep.
Mattress Design
The SleepX mattress has been designed to complete your specific sleep needs and give you a premium look in your bedroom. And the upper surface is a white in color in all SleepX mattresses.
Features & Materials
The SleepX mattress uses a soft knit fabric and resilience foam to relieve your pressure points. And every SleepX mattress uses the Neem Fresche technology to give you a healthy environment.
Neem's medicinal qualities combined with eco-friendly germ killers ensure that you and your loved ones get the best in health and comfort. So you can keep your pajamas on and those pesky bacteria away.
And also use the Next Generation memory foam in the first layer of SleepX Otho mattress which is good for your spine and shoulders to keep you completely relaxed as you sleep.
The air mesh fabric of this orthopedic mattress facilitates air circulation and keeps it fresh and odorless.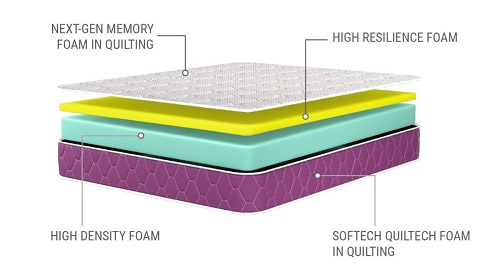 Mattress Size
SleepX has a lot of collections and you don't need to worry about your bed size. You just need to measure your bed size to place an orders. If you want to know the standard size of bed size you can read Indian mattress size.
Mattress Price
When we compare the price of mattresses then we have found both mattress brands are almost the same. And the SleepX mattress price is the most affordable and value for money.
SleepX Mattress price
Dual Comfort Mattress: View on Amazon
Memory Foam Mattress: View on Amazon
Warranty
SleepX offers you different warranties on all mattresses like the Dual Comfort mattress warranty is 7 years and the memory foam mattress is 10 years.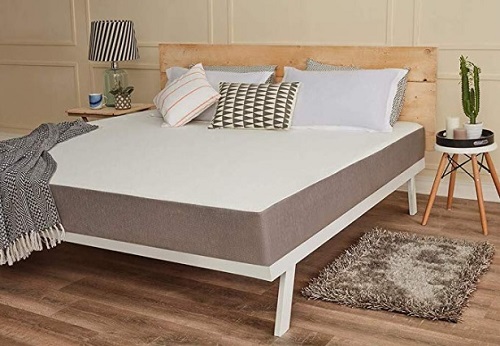 Mattress features
Neem Fresche technology

Premium zipped cover
Superior air circulation
Warranty: 5 years warranty
The Wakefit mattress brand is the latest in the mattress industry and going very popular due to its price and good quality products. And Wakefit is the best mattress seller on Amazon. And Wakefit has now been in existence since 2016.
Type of mattress
Wakefit makes 4 types of mattresses for all sleepers. And the Wakefit Orthopedic highest-selling mattress right now. You can choose a mattress according to your needs.
The Wakefit dual comfort mattress is good to enjoy two sleeping experiences in a single mattress. It means you can use both sides according to your comfort or weather.
The Orthopedic mattress can change the shapes of your body posture over time. If you have any body pain problems like Back pain, Joint pain, Neck pain, etc.
Then this mattress is good for reducing your body pain. Because this mattress changes its shape according to your body weight and height.
It is one of the most natural materials used in the making of mattresses. They are made with almost no added chemicals, and the production of latex is almost environmentally friendly.
The Wakefit Grid Mattress is a unique mattress that combines the goodness of spring with the effectiveness of foam. This Xtra Snooze grid mattress gives you the same bouncy feel as a traditional spring mattress, but without disturbing your partner.
Mattress Design
The Wakefit mattress has a very simple design and your bedroom easily adopts this mattress design. It has a very nice look with the surface color white and the sider is like a coffee color.
Features & Materials
Wakefit mattresses uses high-quality materials in their mattresses to provide a good sleeping experience. Also, Its anti-sag technology ensures you that during this time the mattress does not gradually soften. Wakefit provides great support to your body with all type of mattresses.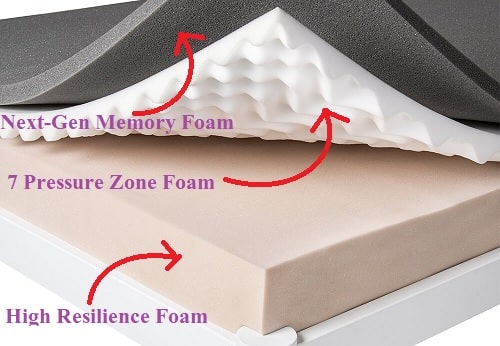 You can see the Wakefit Orthopedic mattress layers and material are used in this mattress. The first layer is the Next-Gen memory foam to keep you cool and the second layer is the 7 Pressure zone to adapt to your body shape and the last layer is High resilience foam for giving comfort and support to your body.
Mattress Size
The mattress size is not a big issue because SleepX and Wakefit have multiple size options to choose the mattress according to your bed size.
And you can also get detail for mattress size, read this Indian mattress size.
Wakefit Mattress Price
All mattresses of Wakefit are totally budget-friendly and price is not too difference between Wakefit and SleepX mattress. But the Wakefit mattress are cheaper than SleepX brands.
Wakefit:
Warranty
The warranty duration is depend on each mattress types and Wakefit have good durations of warranty and good have provide customer support. You get more detail on product page.
Our Conclusion
Both mattress brands provide good quality mattresses in India. If you look price of both brand are almost similar and pocket friendly.
A SleepX mattress is a good choice for everyone because you'll have all the best features and quality at an affordable price.
You can also choose Wakefit mattresses because it has most positive reviews and ratings on online stores.
I hope you like found helpful information and decide good mattress to buy online. If you have any queries you can ask by comment us.
Thank you for reading this article